The Data Sciences Institute (DSI) welcomed 35 carefully selected undergraduate students from across Canada for a rich data sciences research experience. The Summer Undergraduate Data Science (SUDS) Opportunities Program is a great way for undergraduate students to engage in hands-on research led by DSI member faculty and scientists. The program has a cross-disciplinary approach, applying data science skills in various fields including the humanities, life science, engineering, public health, and more.
Student applications open on December 19, 2022, for the 2023 SUDS opportunities.
SUDS Scholars praise the program
SUDS Scholars participated in weekly speaker seminars, data science skills, and professional development opportunities. They had numerous networking events where they got to know more about the wide variety of SUDS projects. They also requested an easier way to stay in touch and connect. To accommodate this request the DSI set up a Zoom Chat channel.
Scholars presented their research projects and data methods at SUDS Research Day, where students also voted for the best presentation. This year's winner was Lauren Gill from the University of British Columbia who was studying Data Science for White Shark Conservation with Vianey Leos Barajas an assistant professor in the Department of Statistical Sciences at the Faculty of Arts & Science.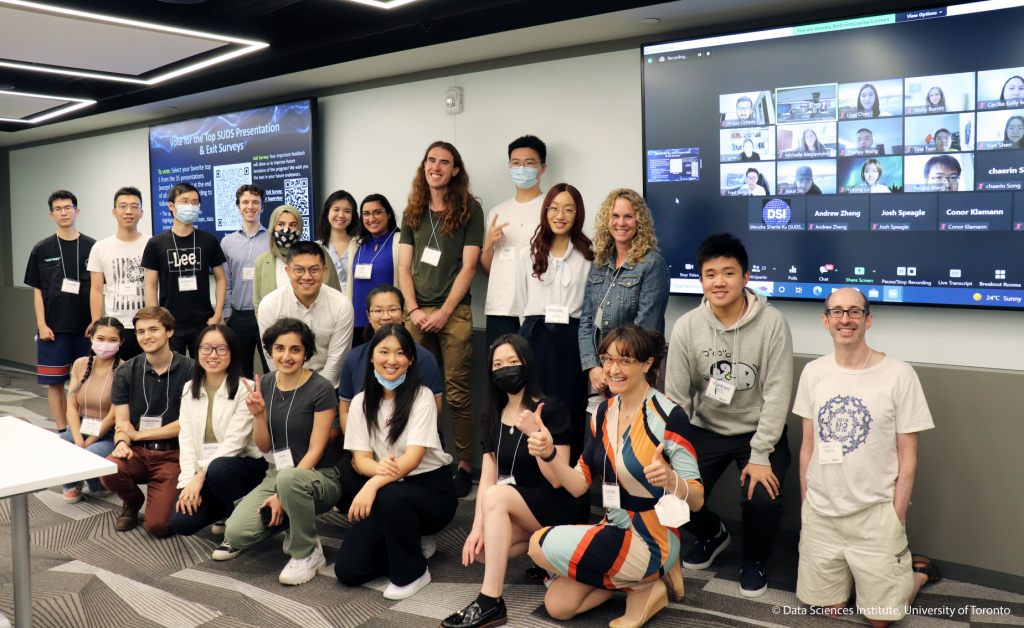 Other 2022 SUDS scholars included Yingke Wang who was working with Rahul Krishnan, an assistant professor in the Department of Computer Science and the Department of Laboratory Medicine & Pathobiology within the Temerty Faculty of Medicine, on machine learning for chronic disease management. 
SUDS scholar and Innis College member, Tina Tsan worked with Ulrich Wortmann, an associate professor in the Department of Earth Sciences at the Faculty of Arts & Science, on an analysis of why the last ice age came to a sudden end.
SUDS scholar Anthony McCanny, a member of Victoria College where he was a Northrop Frye Centre Undergraduate Fellow, worked with Felix Cheung, an assistant professor in the Department of Psychology at the Faculty of Arts & Science. They explored whether gross domestic product (GDP) is a good measure of economic and societal success, and what type of government spending improves the lives of citizens.