Applications are submitted via the DSI Good Grants application portal.
Register an account and select "Start Application" for "Research Software Development Program."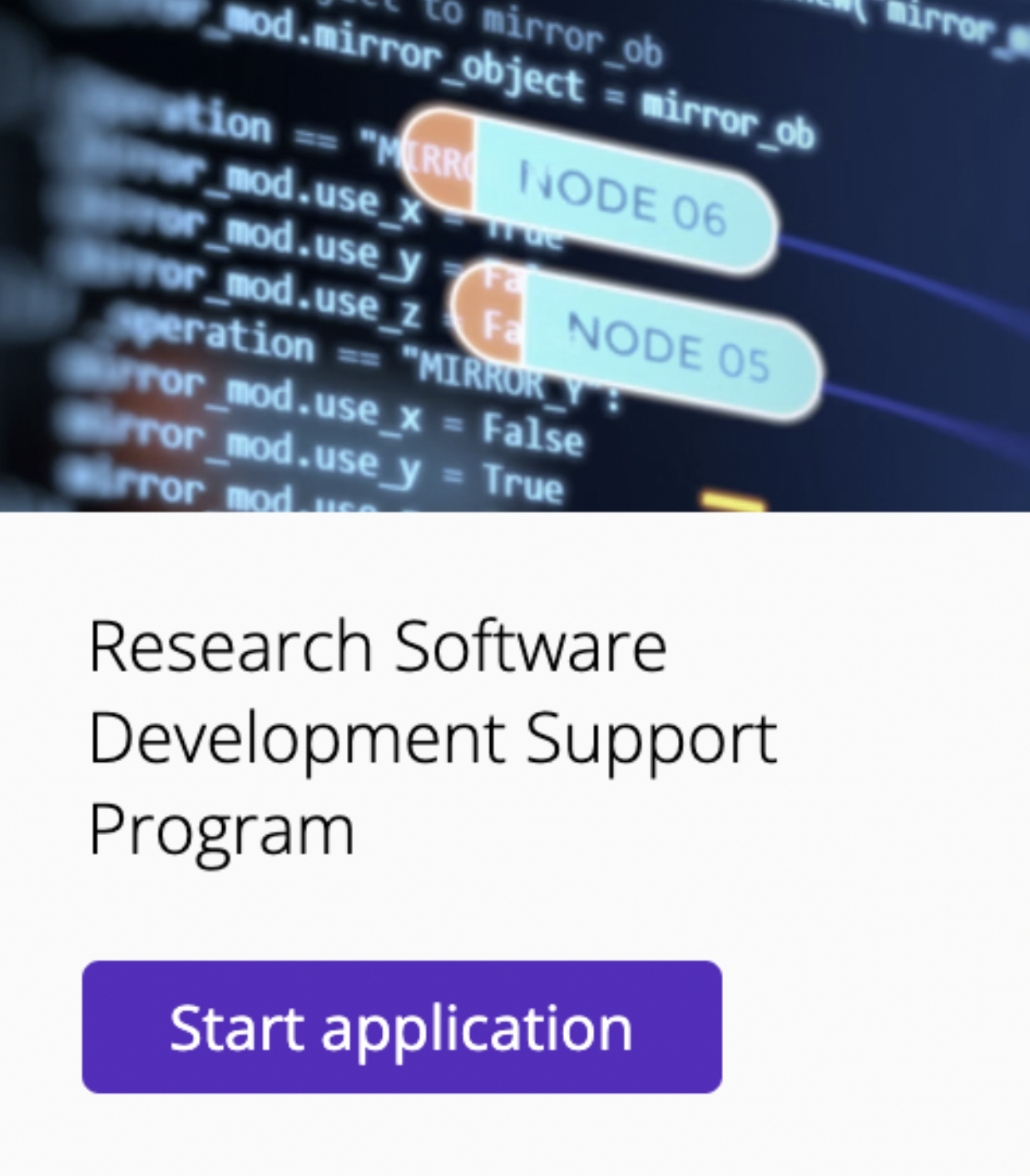 The application is divided into tabs; each tab includes a set of instructions and fields to fill out. These instructions are also highlighted below. 



Applicants will need to complete the following fields. 


Tab 1: Start Here 
Title 


Tab 2: PI or Team Info 
The Research Software Development Support Program will accept applications from single-applicant PIs or a team of PIs. Required info for each team member: 
Role (NPI or Co-PI)

 

Name

 

Email

Institution

 

Division (if applicable)

 

Unit (if applicable)

 
Tab 3: Proposal

A. Description (250 words)
Describe the problem requiring support from the Research Software Development Team.

B. Scope (250 words) 
Describe the scope of the required software: 
How is it intended to be used?

How it might be used by other groups? 

 

Why existing software is not sufficient?

 

C. Status (250 words)
What is the current status of the software to be developed? Include an estimate of the number of current users and an estimate of the number and range of intended users after working with the Research Software Development Team. 

D. Workflow (250 words)
Propose a strategy for engaging with and supporting the Research Software Development Team to ensure a successful outcome within the intended timeframe. 

E. Cross-Disciplinary Engagement (250 words)
We encourage cross-disciplinary interactions to increase the impact of this program. Describe how the software could be re-used outside of your discipline and include a plan for such re-use if possible (e.g., describe a specific data set from another discipline that would be usable by the software, include a co-applicant and corresponding use case from another discipline). 

Unit Head Signature Form 
Using the provided template, secure signatures from the unit heads for all PIs on the proposal.  

Demographic Survey 
Once the applicant has submitted their component of the application on or before October 20, they will receive a confirmation email that includes a proposal-specific link to a Demographic Survey. While this survey is required, when filling it out respondents have the option to select "Prefer not to answer" for all questions. All PIs on an application must fill this survey out, and have until October 27 to fill out the survey. Please note that the survey link is tied to the proposal, and all demographic information in our database is tied to past proposals and not to individual applicants. In other words, PIs who have filled out this survey in the past must fill it out again for this proposal.