After months of dedicated data science learning and exploration, the Data Sciences Institute's Summer Undergraduate Data Science (SUDS) Opportunities Program reached its highly anticipated finale—a full day of showcase where 37 exceptional undergraduate students unveiled their research projects. The atmosphere buzzed with a blend of excitement, eager anticipation, and unwavering enthusiasm as the culmination of their efforts took center stage. 
The SUDS program, known for its cross-disciplinary approach, provided an enriching summer experience for students to apply data science techniques in diverse fields, ranging from humanities and life sciences to engineering and public health. Supervised by Data Sciences Institute (DSI) researchers, the scholars had the chance to explore real-world applications of data science methods and tools. Their research included a diverse array of research topics, spanning from genetic covariance analysis in fruit flies, investigations into the linguistic dynamics of political discourse, to school dropout prediction using machine learning, showcasing the program's broad spectrum of data science applications. 
In addition to their research, SUDS Scholars are provided with a full set of data sciences networking, academic, and professional development opportunities. They delved into the Data Science Bootcamp, gaining valuable skills in Unix Shell, R, Python, and Machine Learning. This technical foundation supported their research endeavors. In addition to technical training, the SUDS cohort program emphasizes career growth and professional development. The scholars participated in professional development sessions, ranging from scientific abstract writing to effective networking. Notably, they had the opportunity of learning from industry experts like Zia Babar, PhD, Director of Cloud Engineering at PwC Canada, who shared insights on Accelerating Machine Learning Development with GitHub Copilot. 
DSI's mission is to nurture collaboration, research, and excellence in data science. Professor Laura Rosella, DSI Associate Director of Education and Training, described the showcase as the pinnacle of the scholars' journey. "With their findings presented to their peers and supervisors, the room buzzed with excitement and celebration, encapsulating the remarkable culmination of their hard work. Without a doubt, the DSI SUDS program has launched these aspiring scholars into promising careers in Data Science." 
"I enjoyed seeing the growth my student has achieved in just over 3 months. She is motivated to continuously work and expand her research skills and I am delighted to learn that she is planning to apply for graduate school," says one supervisor, anonymously. 
"As is often the case when working with students outside of astrophysics, I appreciated the fresh perspective on our research area from a student arriving without preconceptions about the field. They were eager to learn and highly professional in their conduct, making the research project a breeze," says another supervisor, anonymously. 
The SUDS showcase offered a platform for the scholars to share their final findings and also allowed students to recognize their peers' exceptional posters and presentations. Awards were given out to Shuyu Van Kerkwijk, Anton Sugolov and Nicholas Taylor for their exceptional posters, while Sanchaai Mathiyarasan and Akil Huang were celebrated for their outstanding presentations.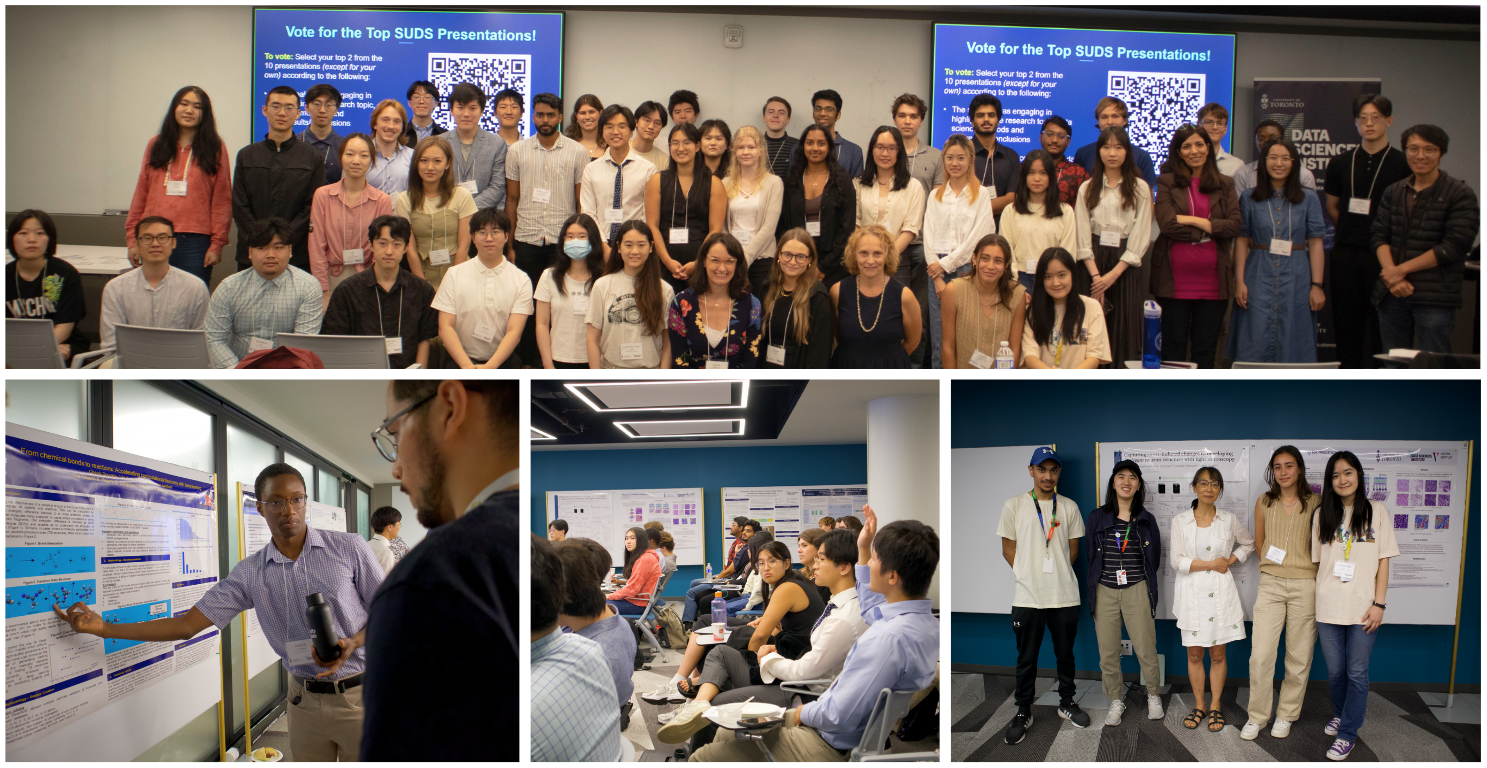 SUDS Scholars praise the research opportunities and SUDS cohort program 
Nicholas Taylor, who was voted for a top poster for his project, Quantum Machine Learning for Regression Tasks in Computational Chemistry, tackled the challenge of balancing accuracy and computational cost in chemical property predictions. He explains, "Such information holds significant implications for drug discovery and material science." Reflecting on his experience, Nicholas says, "From not knowing the first thing about academic research to building quantum machine learning methods, I've learned a lot that I can take with me to future applications." 
Lu Huang, who has been diligently dedicated to her research project, Bayesian Analysis of the Genetic Covariance Between Mating Success and Fitness in Drosophila serrata, aims to uncover the genetic interrelation between mating success and fitness in fruit flies. The goal is to ascertain whether mating success can serve as a viable indicator of overall fitness in the context of evolutionary studies. Existing research suggests that female Drosophila serrata possess the capacity to assess and choose mates based on olfactory and chemical cues. 
Reflecting on the program, Lu Huang says, "The weekly seminars provided a valuable opportunity for people from different backgrounds to engage in discussions about the daily tasks of data scientists, enhance networking skills, and strategize for resume improvement. It was a great learning opportunity." 
One research project emerging from the SUDS program focused on School Dropout Prediction Using Machine Learning: An Interactive Presentation of the Evolving Landscape. Ziqi Shu collaborated with Professor Zahra Shakeri from the Dalla Lana School of Public Health at U of T, alongside Dr. Manuel Garcia-Herranz, a Data Principal Researcher at UNICEF, and Karen Avanesyan, a Statistics and Monitoring Education Specialist from the Division of Data, Analytics, Planning and Monitoring at UNICEF. Their collective effort aimed to combat school dropout rates through the utilization of data science. Notably, this venture marked one of the program's initial steps toward external partnerships. Encouraged by this growing network, the SUDS program envisions an expansion of such projects and looks forward to fostering collaborations with diverse organizations. 
"Through this program, I understood how AI can address vital educational challenges by working on real-world cases. It gave me a sense of purpose, knowing my work could contribute to improving education access worldwide," says Ziqi Shu.