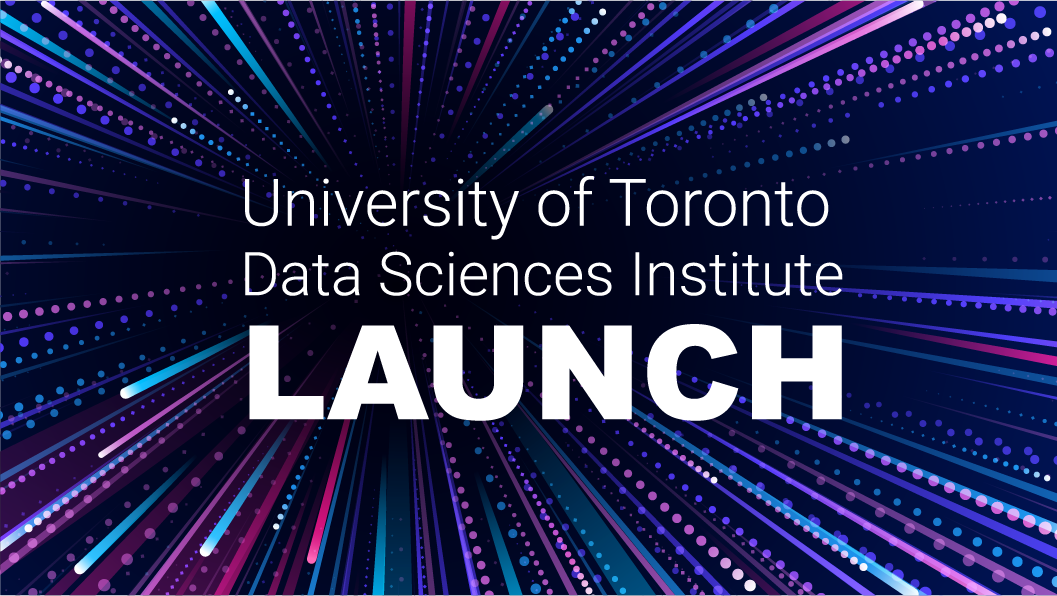 Data Sciences Institute | Launch

Join us for the launch of the University of Toronto (U of T) DSI.
Open to all.
The DSI provides the leadership and capacity to catalyze the transformative nature of data sciences in disciplines, in fair and ethical ways, leveraging and strengthening U of T's preeminence in data sciences to solve society's complex and pressing problems. Research efforts focus on advancements in data science methodologies and tools that can be applied across a variety of fields as well as the emergent discipline of data sciences themselves.
The DSI is a community and supports faculty and trainees to expand their data-intensive research activities; develop their computational and data science skills to support their teaching, scholarship, and research.
Hourly Schedule
September 17, 2021
1:00 PM

-

Welcome & Opening Remarks

Welcome/Intro: Prof. Jeffrey Rosenthal, Dept. of Statistical Sciences, U of T
Michael White, Director, First Nations House, U of T
Prof. Ted Sargent, Vice President Research, Innovation & Strategic Initiatives, U of T
Prof. Melanie Woodin, Dean, Faculty of Arts & Science, U of T
Prof. Lisa Strug, Director, DSI, U of T
1:30 PM

-

Keynote I

Introduction: Prof. Karen Chapple, Director, School of Cities, U of T
Keynote: Prof. Jennifer Chayes, University of California, Berkeley
Talk Title: Computing, Data Science, and Society
Q&A: Prof. Jeffrey Rosenthal, Dept. of Statistical Sciences, U of T
2:20 PM

-

Interlude

Prof. Jeffrey Rosenthal, Dept. of Statistical Sciences, U of T
Stretch break
Prof. William Gough, Vice-Principal, Academic and Dean, U of T Scarborough
2:30 PM

-

Keynote II

Introduction: Prof. Rohan Alexander, Assistant Director, CANSSI Ontario
Keynote: Prof. Andrew Gelman, Professor, Statistics and Political Science, Columbia University
Topic: Statistical Workflow
Q&A: Prof. Jeffrey Rosenthal, Dept. of Statistical Sciences, U of T
3:20 PM

-

Interlude

Prof. Jeffrey Rosenthal, Dept. of Statistical Sciences, U of T
Stretch break
Remarks by Prof. Rhonda McEwen, Vice-Principal, Academic and Dean, U of T Mississauga
3:30 PM

-

Keynote III

Introduction: Prof. Jamie Stafford, Provostial Advisor, Data Sciences and Vice-Dean Academic Operations, Faculty of Arts & Science, U of T
Talk: Prof. Rob Tibshirani, Professor, Biomedical Data Science, and Statistics, Stanford University
Talk Title: Data Science, Statistics, and Health
Q&A: Prof. Jeff Rosenthal, Dept. of Statistical Sciences, U of T
4:20 PM

-

Closing Remarks/Appreciation

Closing Remarks: Prof. Lisa Strug, Director, DSI, U of T
4:25 PM

-

End